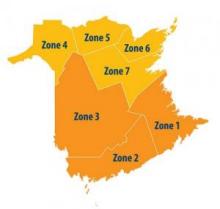 Links to official COVID-19 information, including links to the latest official Proclamation and Mandatory Order, Frequently Asked Questions (FAQ), WorkSafe NB, and other links (bilingual links / liens bilingues).
As of November 27, people travelling into New Brunswick, including all of the Atlantic provinces, are required to self-isolate for 14 days unless exempt. Registration for travel into New Brunswick, including New Brunswickers returning home from travel, is also now mandatory. Travellers must register at www.gnb.ca/travelregistration. Failure to register can result in penalties.
Zone 1 (South East NB), Zone 2 (South West NB) and Zone 3 (Fredericton - Central NB) are at ORANGE level.
Government of New Brunswick news release November 26:
EN: https://www2.gnb.ca/content/gnb/en/news/news_release.2020.11.0640.html
FR: https://www2.gnb.ca/content/gnb/fr/nouvelles/communique.2020.11.0640.ht…